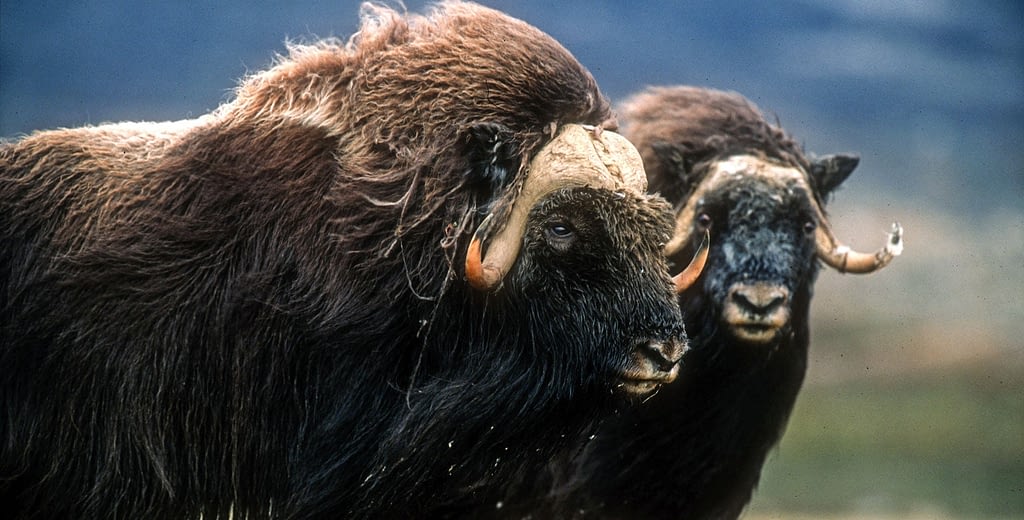 Musk Ox & Caribou hunting in Greenland
Iceland Outfitters offers a 3 days hunt for musk ox near Kangerlussuaq, West Greenland. The hunt brings the hunters into the real wilderness. Greenland is so close to both the US and Northern Europe, but still so different and unique.
In our August hunts, hunters stay in a tent camp near Kangerlussuaq town. We have four sleeping tents in camp; one kitchen/dining tent and a field toilet tent.
The hunt is a real and challenging spot and stalk hunt. You will often be close to the big arctic Musk Ox when the shot has to be taken. The last part of the hunt is ended exciting in ways that sometimes test the hunter's nerve system!
We go by boats from the camp and by foot in tundra and mountain terrain; therefore your physical health must be good. As well, as you must be able to help carry your trophy (20-40 kg) over quite long distance – between 1 and 5 km. There will normally be opportunity to find support for the rifle on rocks or small hills under shooting after approaching the lonely bull or family group.
We transport you to the hunting camp with a car and boats. Depending on where the camp is located, the sailing distance from the harbor is app. 30 – 90 min. You will find yourself in the middle of the wilderness, in a safari camp that will be center of some of your life's greatest experiences. You will be hunting the exclusive Musk Ox in the arctic tundra, and we offers near to 100% success on strong Musk Ox bulls with good trophy or old bulls with strong boss.
We welcomes you to a hunt of a lifetime. Only few places in the world you find this exclusive trophy to be hunted. The summer days are long and nights are short. In August there are only few hours of darkness and the hunting days can be long.
Typical itinerary

Hunters fly through Iceland to Kanglerlussuaq in Greenland. We recommend a two night stay in Iceland after the hunt.
August 13
Arrival to Kangerlussuaq
Outfitter picks you up at Kanglerlussuaq airport and takes you to the tented camp.
Overnight stay at hunting camp.
August 14 & 15:
Spot and stalk musk ox/caribou hunt.
Overnight stay at hunting camp.
August 16
– Musk ox/caribou stalking hunt. – Return to Kangerlussuaq. – Overnight accommodation at hotel
August 17
– Departure from Kangerlussuaq.
Location
Kangerlussuaq town, Greenland
Season
March 1 – April 1
What to wear
Wear war, walking clothes, good hiking boots and rainproof camo outfit.
Musk Ox & Caribou hunting in Greenland Photo Gallery