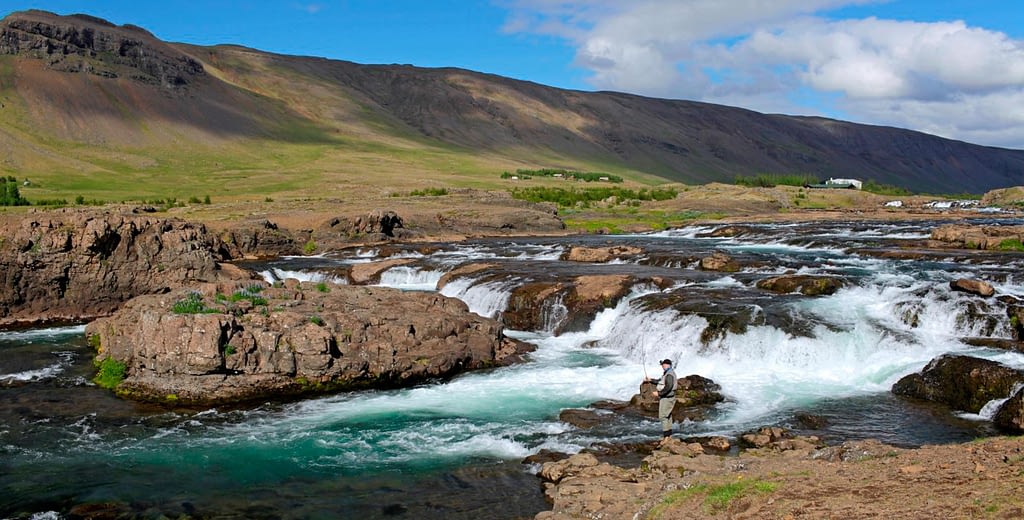 Laxa in Kjos
Laxa river in Kjos is located in Hvalfjordur in South West Iceland, approx. 30 min from Reykjavik. It plays the vital role in the great scenery of the stunning glacially forged valley it is placed in. It is a first class salmon river, which offers wide variety of fishing as well as technical fishing, it is sometimes called "The University of Salmon Fishing" as not many rivers provide as much variety than Laxa river in Kjos or offer anglers so much diversity in challenges.
It is a medium sized salmon river, 25 km long, double bank with 80 pools, fished on 10 rods. It offers everything from the deep white waterfall pools to the long flat pools, as well as the tiny river Bugda, which is a tributary to Laxa river in Kjos.
Laxa river in Kjos is fished with single handed rods or a small double handed rod, floating line, riffling hitch and small flies.
The lodge is one of the better full service lodges in Iceland, it is large but very cosy and attractive, with everything anglers expect from a high standard fishing lodge. The view from the lodge is spectacular. With each rod there comes a spacious twin bedroom with a private bathroom and a view over the river. There is also a large wading/drying area where the anglers can hang their waders and jackets to dry. There is a small tackle shop at the lodge where anglers can stock flies and more.
The meals served at the lodge are spoken highly of, prepared by a respectful chef who strives to serve imaginative and wholesome meals.
The Laxa in Kjos Photo Gallery