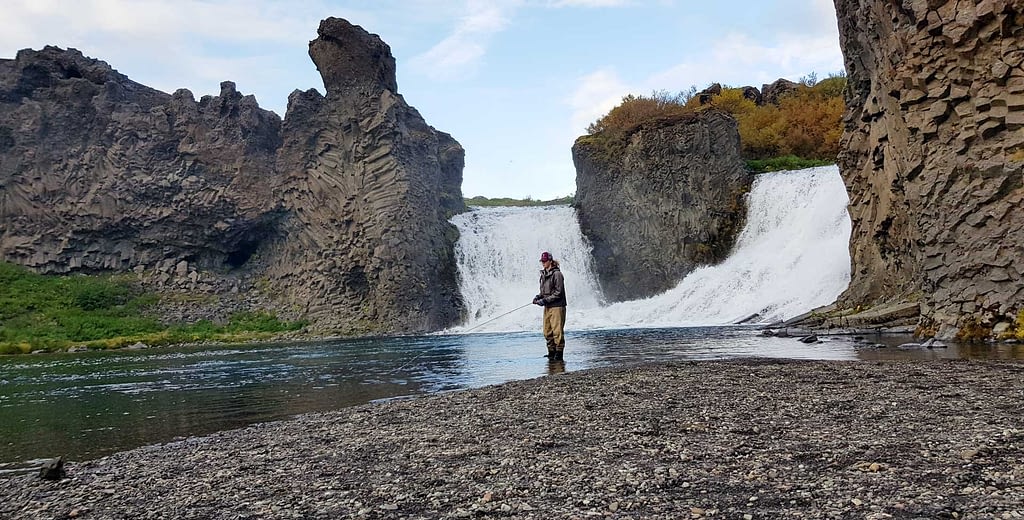 Fossa river fishing – salmon & trout
Fossa river is a top class, medium sized salmon river located in the lava fields north of the volcano Hekla in the South of Iceland. The river is named after the waterfalls it is famous for, but "foss" is the Icelandic name for waterfall. In Fossa river you will find three remarkable waterfalls to fish in, one of them being Haifoss waterfall at the top of the trout beat. Haifoss is the second highest waterfall in Iceland, measuring 122 m. The fishing in Fossa river is easy accessible, it is fly-only and is usually fished on single handed rods or small double handed rods. All fish has to be released.
The salmon beat of Fossa river is below the Hjalparfoss waterfall where there are 2 km of private fishing for 2 rods, with plenty of pools to keep the 2 rods busy. The salmon runs quite late in Fossa river and the fishing only gets better throughout the season. The average size of the salmon is around 7-9 pounds and a good number of salmon are well over 10 pounds. Trout and arctic char are also to be found in the salmon beat and in September you can expect catching sea trout as well.
The trout beat of Fossa river is above Hjalparfoss waterfall and is about 8 km long. The fishing spots are way to many to cover in one day for the two rods. From Haifoss waterfall, the river runs through a beautiful canyon and stretches out to nice gravel pools with grassy banks, completely perfect for trout fishing.
Fossa river accommodation
There are many accommodation options close to Fossa river, we will find the suitable accommodation for your needs. You can choose everything between a nice self catering cottage and a hotel.
The Fossa river photo gallery