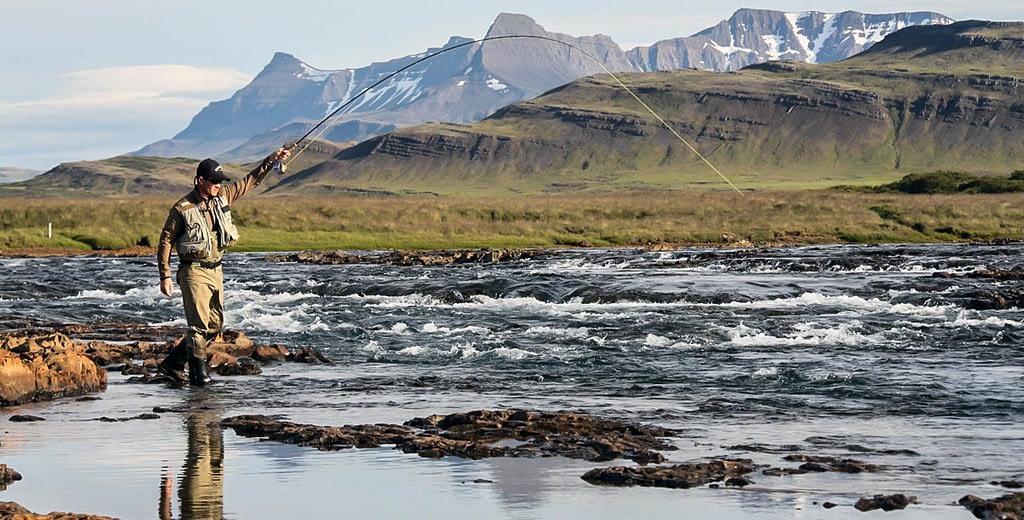 Grimsa river fishing
"The Queen of Rivers"
Grimsa river is one of the big names in Iceland, some call it "The Queen of Rivers" in Iceland. It is a medium sized salmon river, located in Borgarfjordur in West Iceland, approx. 1 hour from Reykjavik.
The Fishing
Grimsa river is known for its beauty and is definitely one of the most beautiful rivers in Iceland. It is 32 km long, double bank with 66 pools fished on 8 rods, so there is a plenty of space for each angler. As on many other Icelandic rivers, the use of floating lines are ideal among small flies and hitch tubes. Grimsa river is fly only with a voluntary but catch and released is widely practiced and encouraged. The river is usually fished with a single handed rod but it is good to have an access to a double handed rod during the windy days.
The catch on a normal season is around 1200 – 1800 fish, with a solid run of sea trout that often starts in early July. As other rivers located on the West coast of Iceland it benefits from the early run of fish.
The lodge is very unique and of high standard. It is well known for its spectacular architecture, designed by Ernst Schwiebert, an famous American architect who used to be one of Grimsa's regulars. The lodge is standing on a cliff above the river's most productive pool, "The Laxfoss" and offers a spectacular view. The lodge is large, spacious and very comfortable. The rooms are twin bedrooms with private bathrooms, each rod has a private bedroom.
The meals at the lodge are of very high standards managed by one of Iceland's leading chefs.