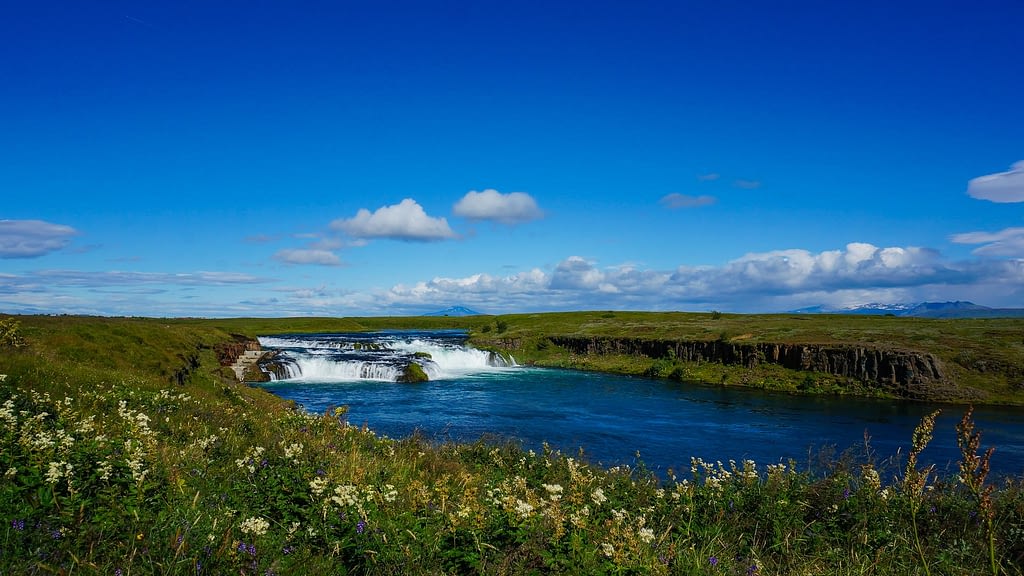 The West Rangá River in Iceland
The West Rangá River, located in southwest Iceland, is a world-renowned salmon fishing in Iceland destination attracting worldwide anglers. The river flows approximately 130 kilometres from its headwaters in the highlands to the Atlantic Ocean, with several smaller streams and tributaries feeding it on its way.
The West Rangá River is well-known for its abundant salmon, making it a favourite choice for anglers looking to catch these elusive fish.
The River divides into several beats, each offering a memorable fishing experience, with the upper beats featuring fast-moving waters and rugged terrain and the lower beats featuring slower currents and broader pools.
Strict conservation measures are in place to ensure the sustainability of the salmon population, with a limited number of permits issued each year. The strict conservation of West Ranga River Iceland contributes to preserving its fragile ecosystem, allowing future generations to enjoy its natural beauty and treasures.
Aside from fishing, the River is a popular hiking and sightseeing destination. The scenery is breathtaking, with snow-capped mountains, glaciers, and lava fields all visible.
Whether you're an angler, an adventurer, or a nature lover, West Rangá Iceland is a must-see destination that will provide an unforgettable experience.
Salmon Fishing in West Rangá River Iceland
If you enjoy fishing, the West Ranga River in Iceland should be at the top of your list of places to visit. The West Ranga River, known for its abundant Atlantic salmon, is one of Iceland's most popular fishing spots.
The river's clear, pristine waters are fed by many smaller streams and tributaries, making it an ideal salmon habitat. With strict conservation measures, the salmon population in the River remains healthy and sustainable, ensuring that anglers can enjoy an exciting fishing experience for many years.
There's something for every type of angler, from the rapid waters of the upper beats to the broader pools of the lower beats.
Fishing in Iceland's West Ranga River is about more than just catching fish; it's also about taking in the breathtaking natural beauty that surrounds the river. The snow-capped mountains, glaciers, and lava fields provide an unforgettable atmosphere for your fishing adventure.
Whether you're an experienced angler or a novice, the West Ranga River in Iceland is a must-see for an unforgettable fishing experience.
Exploring nature in West Ranga River Iceland
The West Ranga River in Iceland is not only a world-renowned fishing destination but also a natural wonder with breathtaking scenery.
The river's journey from its headwaters in the highlands to its mouth in the Atlantic Ocean features some of Iceland's most beautiful scenery.
The West Ranga River in Iceland runs through beautiful valleys and rugged gorges, making it a perfect spot for hikers and nature lovers. The clear waters of the river, fed by numerous tributaries, provide a unique habitat for fish and other aquatic life.
Aside from the river, the surrounding landscape is stunning, with snow-capped mountains, glaciers, and lava fields all visible. Because of its natural beauty, the West Ranga River in Iceland is a popular destination for outdoor enthusiasts seeking an authentic Icelandic experience.
West Ranga River Lodge Iceland
If you're planning a trip to Iceland's West Ranga River, you should consider the West Ranga Lodge. Finding the right lodge and accommodation is critical to ensuring a comfortable and enjoyable stay. Fortunately, numerous options suit a wide range of tastes and budgets.
The Lodge, which offers comfortable accommodations and easy access to some of the best fishing spots on the river, is a popular option. The club is located on the river's banks and offers guests breathtaking views of the surrounding landscape.
Aside from fishing, the lodge provides guided tours and outdoor activities like hiking and birdwatching.
There are several cabins and cottages available for rent near the River for those seeking a more rustic experience. These lodgings offer a cosy and intimate setting, with many offering fireplaces and private hot tubs for guests to relax after a long fishing day.
If you prefer more traditional hotel accommodations, nearby towns such as Hella and Hvolsvöllur, which offer easy access to the West Ranga River in Iceland, have several options. These hotels provide all expected amenities, such as comfortable beds, hot showers, and hearty breakfasts to get you through the day.
Staying near the West Ranga River, Iceland, regardless of the type of accommodation you choose, ensures that you can fully immerse yourself in the natural beauty and fishing opportunities that this iconic Icelandic river has to offer.
The fishing lodge is one of the finest in Iceland.  21 ensuite bedrooms, large dining and sitting room, bar, and a beautiful veranda with hot tub and sauna.  Fine meals are served at the lodge.
West Ranga is located about 60 min drive from Reykjavik.
Anglers are mainly fishing for salmon, but there is a good sea trout fishing after mid-August. The largest sea trout caught there was 18 lbs.
West Ranga River Information
The West Ranga Photo Gallery