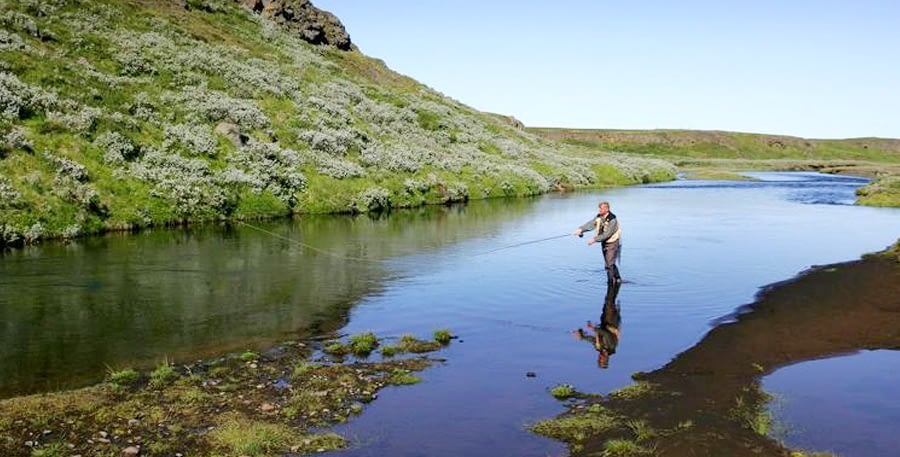 Brunná river
Brunná in öxarfjordur is a gin clear char, brown trout and sea trout river on the northeast coast of Iceland one hour drive from Husavik. There are three rods allowed in the river, it is fly only and catch and release.
Brunná flows through wonderful surroundings, offering areas of unique beauty and diversity. The river flows through brushwood country and at its lower reaches it combines with a branch of the glacier river Jokulsá, creating the much sought after visible line of clear and mud-colored water. The fishing grounds is around 10 kilometres long for only 3 rods.
The season for Brunná begins in April with the sea run and brown trout as the main catch. From the middle of June to the end of season (October) the arctic char and brown trout is for the most parts the main catch.
The sea-run char starts its journey up Brunna in early June. Sea-run trout show up at their traditional time, towards the end of August. It is believed by the locals that the sea run trout in Brunná shows up when the mountain tops have turned white, the clear indication of changing temperature. The surrounding area of the Brunná is unforgettable. The gin clear river holds many beautiful fishing spots.
The Brunna River is one of the few rivers left in Iceland where fishing for sea-run Arctic char is still going strong. Catch rates are around 200 – 500 fish each year with growing numbers. The brown trout stock is not strong but holds large individuals. The stock of sea-run char is strong and the sea runs brown trout stock is getting stronger. The breathtaking surroundings will leave no angler untouched and to be able to fish in tranquillity for such large fish in such beautiful landscape is a privilege.
The Accommodation
A very nice self catering lodge is located at Brunná with 2 bedrooms and room for up to 8 people.