Life is better
When you fish
Iceland Outfitters is a family run travel agency with the goal of offering the best fishing and hunting tours in Iceland.
Our guests hail from all over the world; Individuals, friends, families and corporate tours. Iceland Outfitters only offer the best rivers, lakes and hunting grounds to their clients.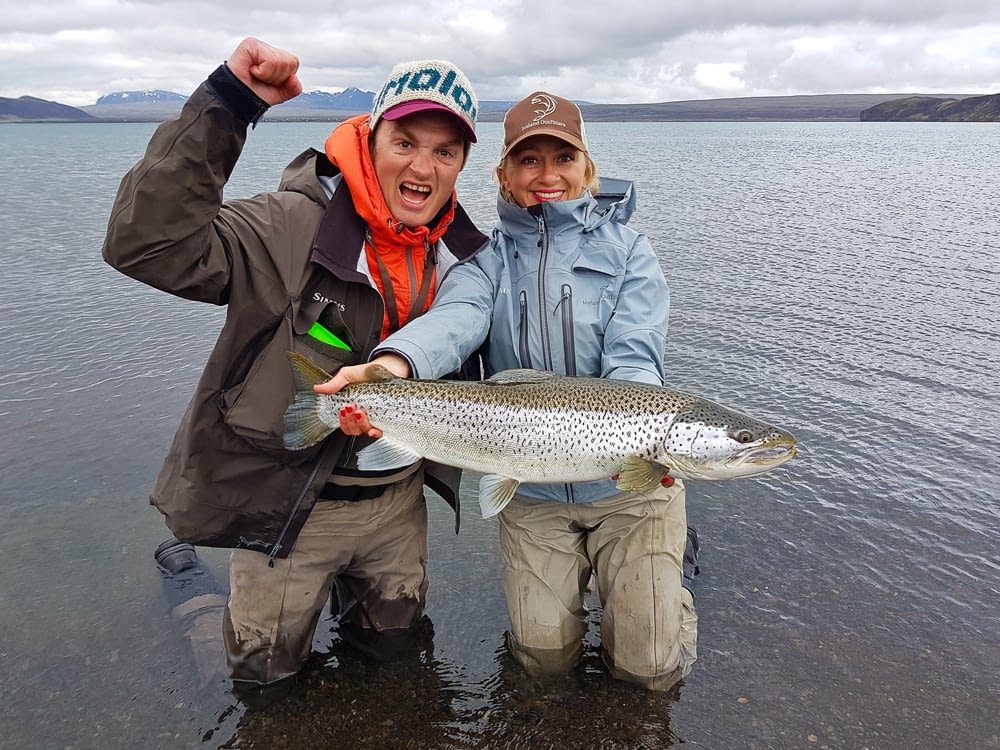 Langa river is one of the better known salmon rivers in Iceland and offers challenging, technical fishing with small flies and great variety of fishing water.
The team at Salmologic develops and produces high quality fishing equipment tailored to the needs of those who fly fish for the Atlantic salmon and brown trout. 
We offer a wide selection of rods, reels, lines, flies, tippets and leaders, accessories and more.
Holaa River Arctic Char
@MMclea
We fished the Holaa River and had a wonderful day. Our guide Sverrir picked us up at our cottage in the morning and drove about 45 minutes to the River. He supplied waders (excellent condition) and fly fishing gear. It was a short walk from the parking area to the River.
The Holaa River has a decent flow, but with a firm gravel bottom so wading was pleasant. Sverrir put us on the fish immediately.
The River holds lots of fish, and we all caught plenty of Arctic Char fishing nymphs with strike indicators. We had 20+ hooks ups, 15 catches, saved 3 for a great dinner. Others who fished the river did not have the success we did, thanks to Sverrir. He provided packed sandwiches, snacks and made some coffee along the bank for us for a mid-day break.
I would definitely do this trip again and would recommend this to anyone, including beginners.
My wife even caught 2 Fish!!!!

@MMclea
Best Outfitter in Iceland!
@JennfromAustin
Harpa and her team are very professional. They communicate well, all guides were on time and very knowledgeable.
We executed 6+ excursions over 4 days + transfers to/from the airport. Every driver and guide we interacted with was friendly, knew the area well + flexible with any and all requests.

I would highly recommend anyone looking to do excursions of any kind to reach out to them first.​

@JennfromAustin
Great 4 days of fly fishing for wild trout
@janvY4166EF
We spent 4 great days on the Icelandic Highlands fly fishing for brown trout and arctic char. We appreciated the personal welcome by Johanna very much.
This is a fantastic destination for fishermen looking for almost untouched surroundings, wild fish and who are happy to stay in a rustic cabin, self catering.

@janvY4166EF